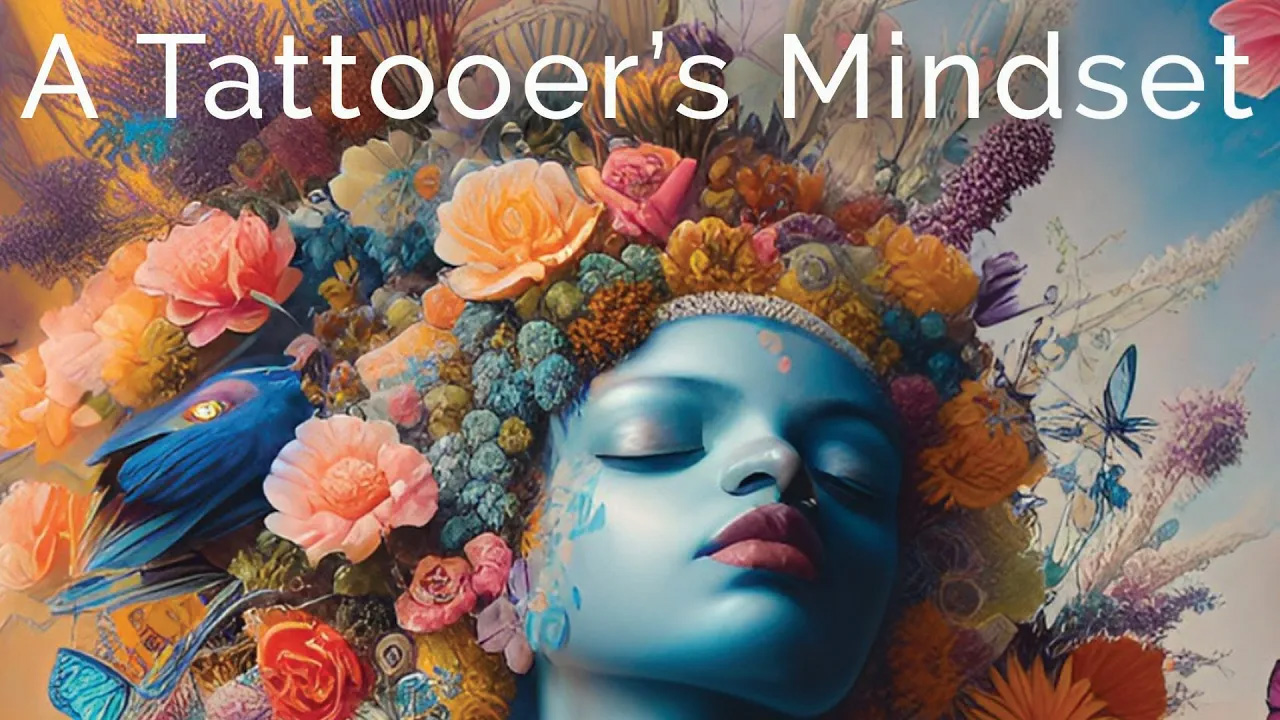 Community Growth and Abundance Mindset
| Russ Abbott | EP 263
Russ Abbott is pushing the boundaries of tattooing and challenging the status quo. Always looking for creative solutions, Russ brings a fresh perspective to our craft. In this episode, originally intended as just per usual catch up call between Russ and Jake, they decided to make it available for you guys too! You'll get invaluable insights into topics that are sure to help anyone in their journey with tattoos - so don't miss out on this golden opportunity!
Interview By Jake Meeks —
Writing Contributed By Daniel Pushcarich
Topics: Tattoo Business, Business Mastermind, Tattoo Marketing, Tattoo Community Groups, Business Leadership,
This episode was made possible thanks to the help of our affiliates. Use code "Fireside" to get discounts on the stuff you are already buying at the links below:
Neuma Tattoo, S8 Tattoo, Reinventing the Tattoo, Raw Pigments, TattooNOW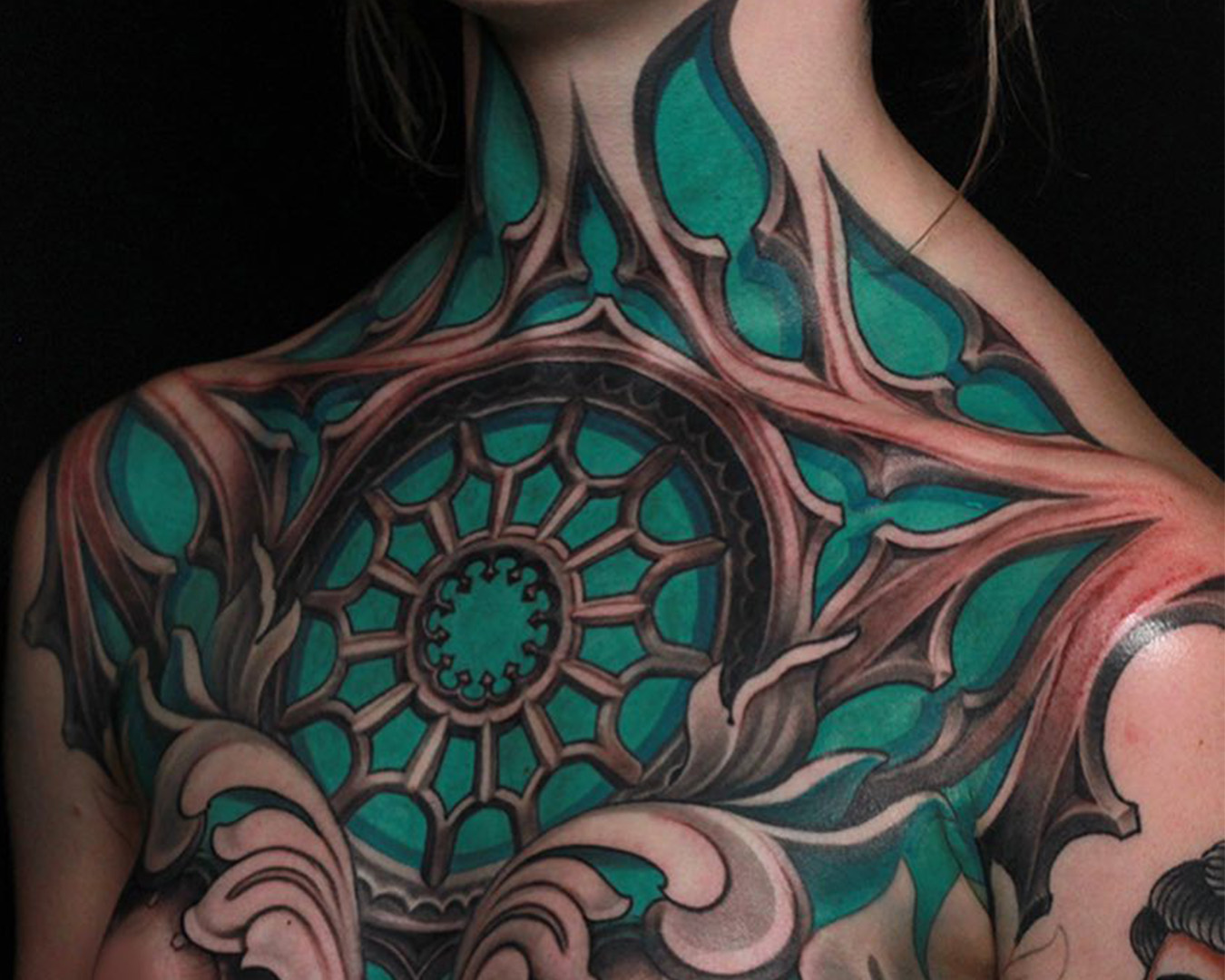 "You can see that there's so much more room, for so many more people, to get out there and create content that's unique and valuable that there's going to be an audience for."
— Russ Abbott
Name of Russ Abbott (@russabbott) Russ Abbott is a Georgia native and has been tattooing since 1998. Russ specializes in Illustrative, Ornamental, and 3D Geometric tattoo styles. He prefers to focus on large-scale projects that fit within his chosen specialties of Illustrative and Ornamental style tattooing.
As the founder of the studio, Russ also enjoys acting as a mentor to the other artists who choose to practice their craft at Ink & Dagger Tattoo.
Russ Abbott is based in Atlanta, GA, and owns Ink and Dagger.
Please enjoy!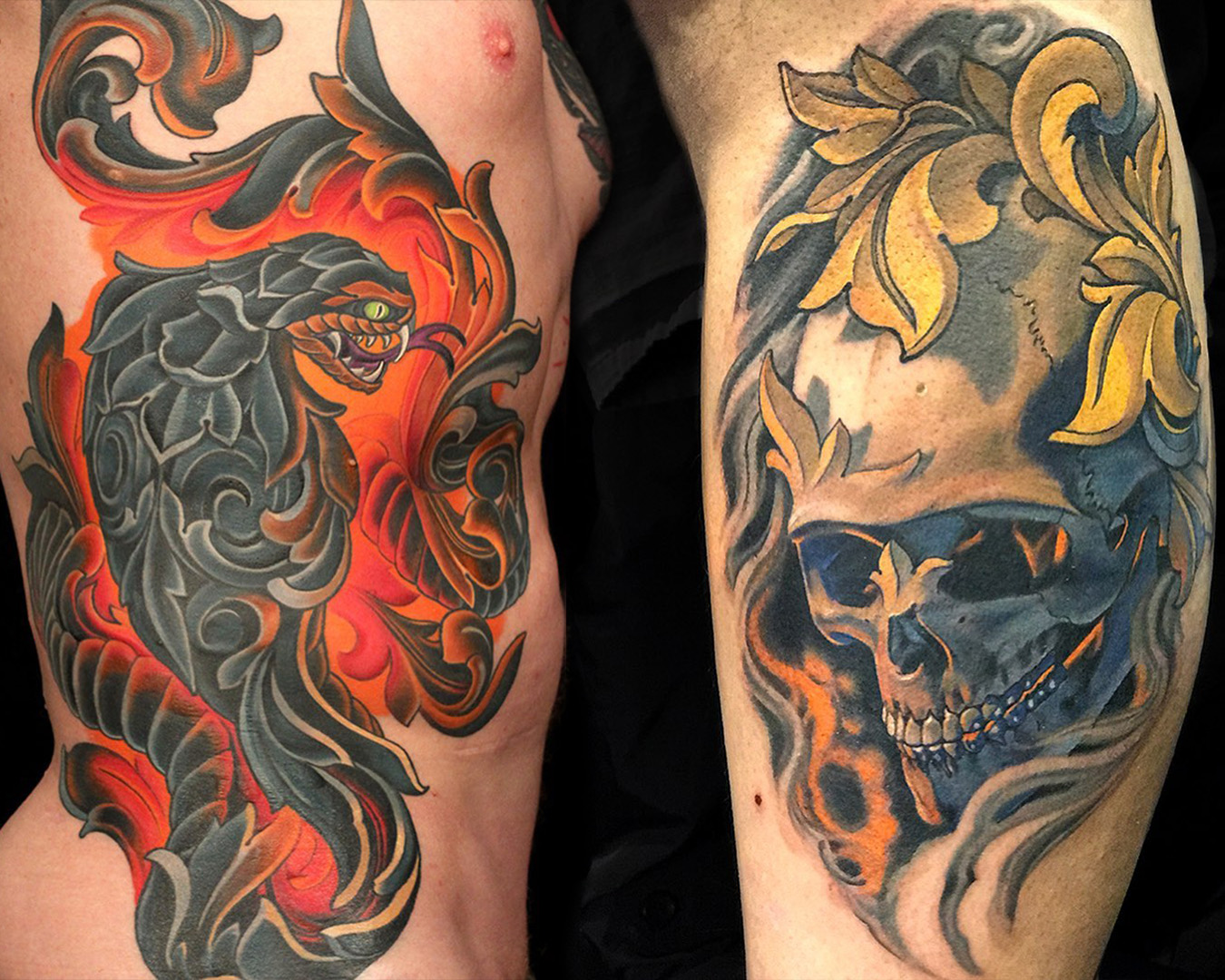 INTERVIEW LINKS, MENTIONS, AND SHOW NOTES BELOW…
SELECTED LINKS FROM THE EPISODE
Connect with

Russ Abbott

:
Ink & Dagger | Linktr.ee | @Russabbott

SHOW NOTES
[00:00] Intro

[01:19] Catching up with Russ and Launchpad

[03:56] Struggles of Community Building

[06:15] Fostering Engagement and Motivating Membership

[07:23] Providing the Space For The Motivated

[08:08] Having a Great Team

[09:32] The Gap Mindset

[11:38] Professional Development Keeps You Focused

[12:57] Jake's Overview of Strategic Coach

[16:15] What's in Your Professional Development Stack

[17:25] Russ's Groups and Introducing "Tattoo MBA"

[18:45] Tattoo Education Emergence

[19:33] Abundance Mindset in Tattooing

[21: 35] Creativity and Style "Everyone Has a Unique Mark"

[22:22] Tattoo Hang Ups

[22:51] Creativity and Style "That LIttle Shift Away From the Ideal"

[25:07] Artistry Vs Craft; Tattoo Viewpoints Converge

[26:05] Working Within the Constraints of the Body

[27:15] Who Not How Mindset

[28:46] Have A Clear Goal in Mind for your Hiring Process

[29:45] Finding the Right Fit For Employees you Love

[31:50] If You Want it Done Right, HIRE IT OUT!

[32:12] Learning How to Communicate Your Goals

[34:19] Create a Delegation System for Easier Communication

[35:10] Personality Tendency Identifier Tests

[36:32] Outro and the Inside Fireside Tattoo Club reminder
MORE RUSS QUOTES FROM THIS INTERVIEW
The Struggles of Building Community
[03:56]"Let's try to open it up a little bit and see if we get some people in their first years of tattooing who're really hungry. An environment where those experts have someone they can share that expertise with."
— Russ Abbott
Do you know what kind of community you want to create? How do you foster engagement? What kind of value do you want to provide? Is it even possible to herd the cats? These are really the questions anyone trying to build an online community is trying to answer.
Russ mentions his initial idea being a community of high level experts solving high level problems with one another. I think this could work but you'd really have to provide some value to this type of community. I think the real attraction coming into communities like this is just like Russ said, giving experts a place where their opinions and advice can be valued. Sometimes this can really foster that communication because now the veteran feels like they're making a difference.
Fostering Engagement and Motivating Membership
[06:15]"The Community Members that are actually there, know that they're there with people who are going to show up and want to have conversations with them."
— Russ Abbott
Continuing to expand on the previous segment, younger and inexperienced tattooers may reap more rewards than most by being part of a community. Those low level tattooers can raise engagement levels simply because they lack understanding, while experts can bring that knowledge and propel conversations into stimulating directions. That enthusiasm from newcomers is highly motivating as it gives the pros an arena in which to focus their passion and energy.
Also, Russ mentions that Launchpad is a PAID community. This always seems counterintuitive to most people, why not just make it free? But, think about it for a second, if you're pouring resources (MONEY) into something aren't you more likely to actively use it? That financial investment can help to drive engagement because everyone who's paying WANTS to be there. It can also be a good litmus test to see who's really committed to seeing that community grow.
An Abundance Mindset Emerging In The Tattoo Industry
[19:33] "It's that abundance mindset, once you unlock that you're no longer worried about trying to protect what you think is yours and you collaborate, and create opportunities to work with other people who are on the same mission."
— Russ Abbott
The Abundance vs. Scarcity Mindset is a common dichotomy in life, and it can have a profound effect on how we approach different situations. An Abundance Mindset views everything as abundant - there is always more than enough to go around. A scarcity mindset takes the opposite view - that there is limited access or resources available.
The art of tattooing has been evolving exponentially, with fresh ideas and technologies being welcomed. Tattoo educators and content creators have become more prominent in the industry while artists are collaborating like never before! This abundant attitude that the tattoo world has been adopting is proof that there's always been enough for everyone.
Creativity and Style; Artistry Vs Craft
[22:51] "We're Trying to Give someone, anyone in the future, something to start with that they can then add their voice to. Because for me the part I'm going to add is that little subtlety, that little shift away from the ideal or just a different mixture."
— Russ Abbott
I'd like to side-step a little and talk about drawing. It would really seem like this is off topic considering we've been focusing on business and mindset, but it has a lot to do with that abundance mindset we talked about earlier. This little bit of discourse that they have makes it a perfect example for how divergent viewpoints can still thrive in the same industry.
Seemingly Russ and Jake disagree here, but they aren't actually too far off from the same point. What is tattooing? Is it a craft or an artform…both? There really isn't a right answer as long as you know the fundamentals and you've always got the clients best interest in mind.
Who Not How
[27:15] "In the past I've just said, who in my sphere have I run into that seems smart and what job can I match them up with…And one of the problems is proceeding without having a very clear understanding of why or what you're even trying to accomplish"
— Russ Abbott
The Who Not How idea is a revolutionary concept that has changed the way business owners operate and manage their companies. By having leaders focus on 'Who' should do something, instead of 'How' people should do it, they can create a more effective working environment and eliminate costly mistakes.
It's not about micromanaging and telling people exactly what to do. Instead, you should be focusing on who has the skills or knowledge to get the job done quickly and efficiently. This way, people can work more autonomously and feel like they are contributing.
If You Want it Done Right, Hire It Out!
[31:50] "You don't always have to hire someone on your team and have then be an employee forever. Sometimes you can just hire someone for an hour."
— Russ Abbott
To finish this article out, let's dig a little deeper into hiring. The old adage "Go it alone", or like Jake said "Rugged Individualism". has been a mantra for many entrepreneurs and business owners for years. The idea is that if you don't rely on anyone else and do all the work yourself, then you will save time and money in the long run. Unfortunately, this couldn't be further from the truth.
One must accept that there are things that you don't know or can't do. And when it comes to specialized tasks such as marketing, accounting, coding, etc., hiring an expert can be a much more cost-effective approach. It takes the burden off of you and allows you to focus on other aspects of running your business. Furthermore, hiring an expert can often result in better quality work and increase efficiency overall.
PEOPLE MENTIONED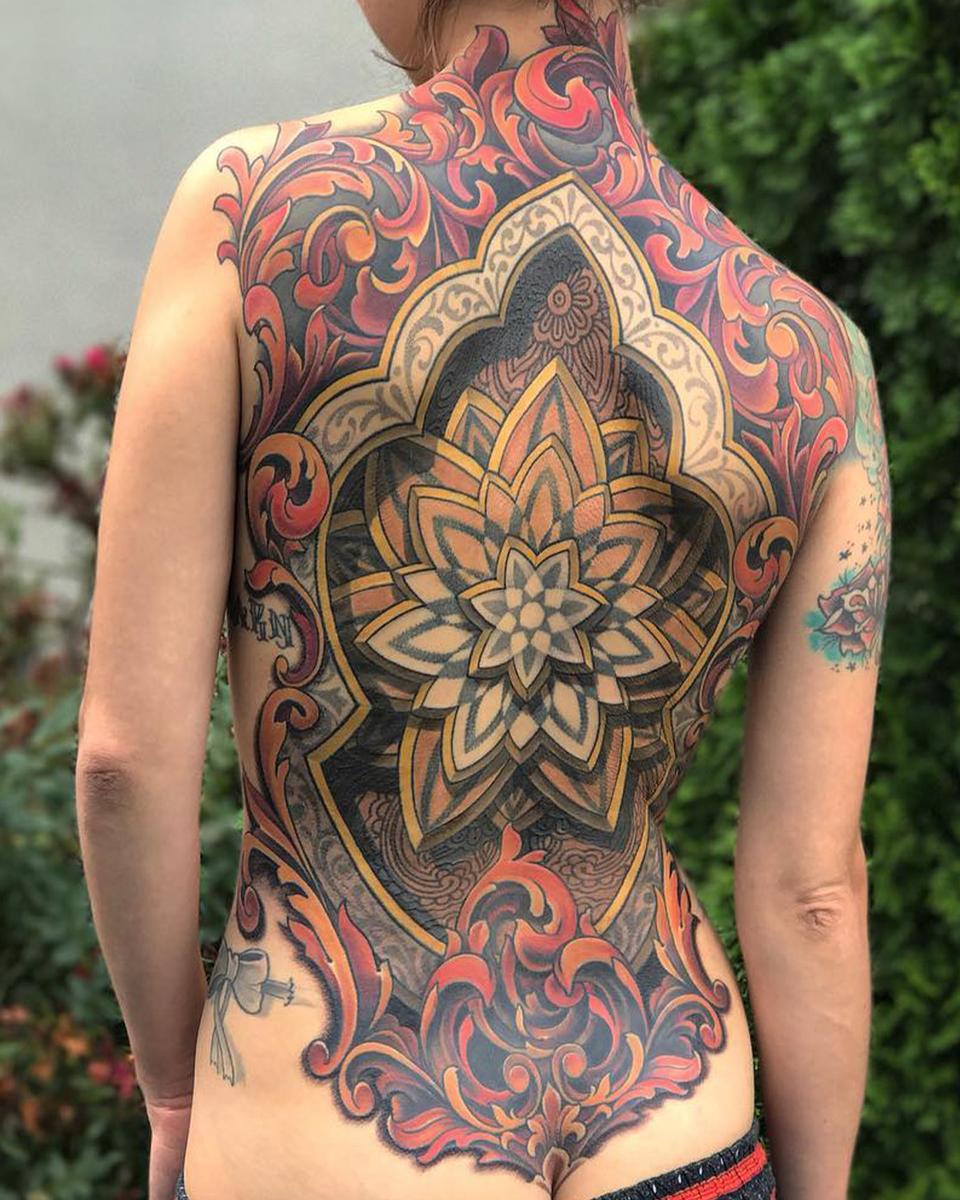 Need an Accountability Partner to help you reach your tattoo goals? You Just Found One!
Inside Fireside Tattoo Club is the heart of the Fireside Family. We are a group of artists who are driven to become the best tattooers we can be. You'll get access to our online community and a whole bunch of other really amazing benefits. Join NOW!
Want more tattoo education and resources?
Check out ourTattoo Business and Mindset catalog HERE!
And you can find all of the courses we offer HERE!
Transcript for this video can be found (here). All transcripts can be found (Here)
(Update when transcript page is made)
The Fireside Tattoo Network is home to the Fireside podcast, Fireside Technique video series and our Fireside Weekly blog.
The Fireside Tattoo podcast is hosted by veteran tattooer Jake Meeks, check out our episodes where we discuss, argue and wax philosophical, from tips for all levels of artists to trends in the tattoo world. Many guest artists have sat down for interviews and in-depth conversations and many more are planned…check back often!
Our Fireside Tattoo Overview video series offers informative, short, and detailed videos geared towards helping artists understand the science and nuances of tattoos and make more informed decisions to improve their work. We often take some of our more technical topics from our Fireside podcast and film an in-depth, narrated, time-lapse video showing exactly how Jake or our featured artists handle certain issues.
Support us while buying the stuff you need at the links below!