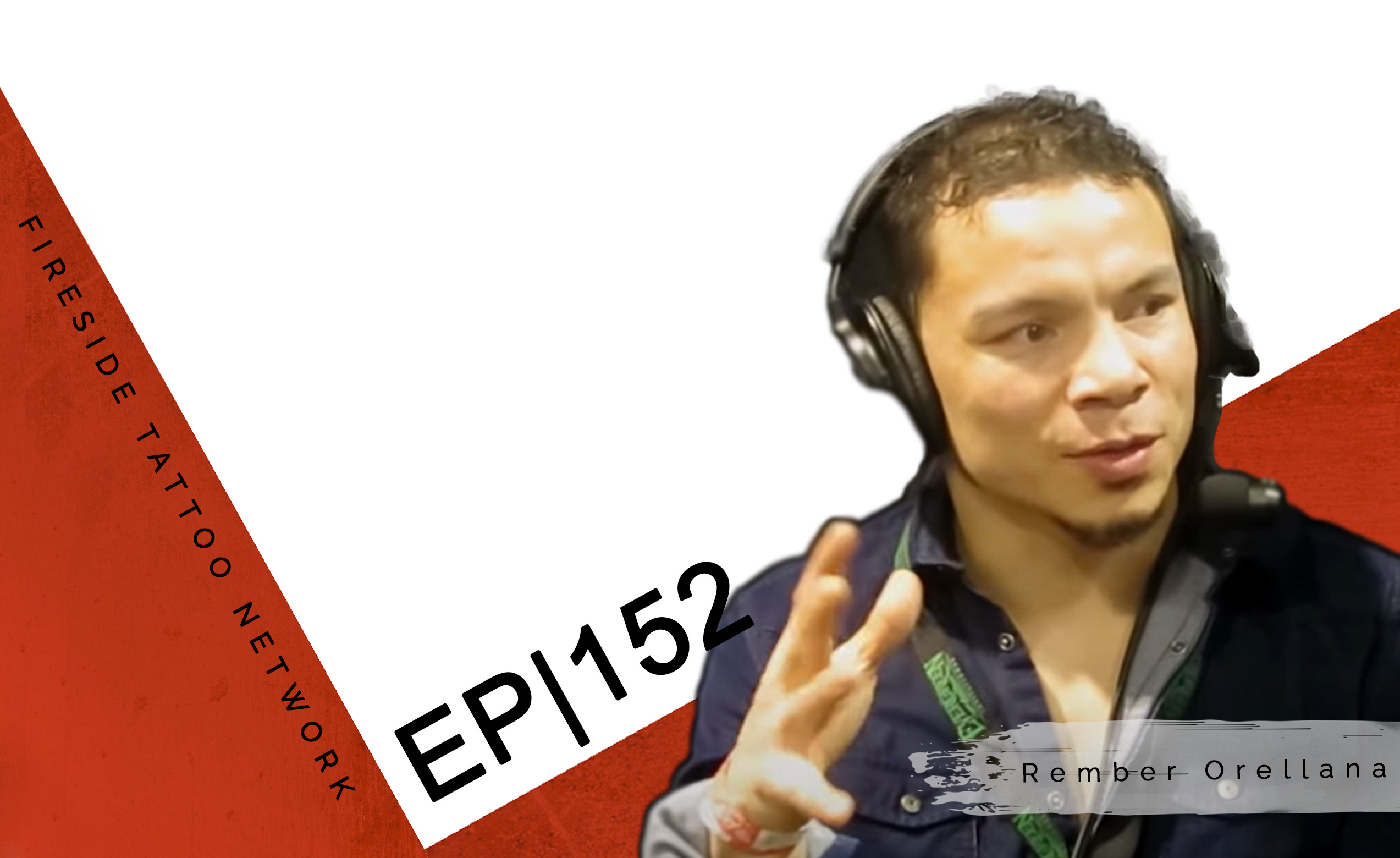 Light Sources, Focus, and Shop Equality | Rember Orellana | EP 170
In this excellent interview Jake and Rember will be touching on art and tattoo design for the first half of the interview; how to approach color and texture, thoughts on realism, and introducing more of the value scale. In the second half they go over more of the business side of things: Running a tattoo studio, shop ethics, apprentice morale, and helping your artists feel like they're part of the shop instead of just working there
By Jake Meeks —
Topics: Tattoos, Tattoo Business, Tattoo Shops, Tattoo Shop Morale, Tattoo Shop Culture, Tattoo Apprenticeships, Color Realism Tattoo, Surreal Tattoos
This episode was made possible thanks to the help of our affiliates. Use code "Fireside" to get discounts on the stuff you are already buying at the links below:
Neuma Tattoo, S8 Tattoo, Reinventing the Tattoo, Raw Pigments, TattooNOW
"I want to always have people better than them in a way, so that they feel like they want to be there and they want to keep on working"
— Rember Orellana
Rember Orellana (@Rember_Tattoos) is one of the two owners of Dark Age Tattoo Studio. Rember Orellana and Francisco Sanchez opened Dark Age Tattoo Studio in 2014. He was born in Guatemala and moved to Mexico when he was 4 years old. Rember then came to the United States when he was 14. Like most Artists, he spent most of his childhood drawing. Rember has always had a really strong passion for art so he started taking art classes at the same time he started tattooing. Rember started his career as a tattoo Artist in 2007. He spends a lot of his free time studying art as well as teaching tattoo seminars around the country because his main focus has always been continuously growing as an artist, all while helping the artist around him reach their own goals.
He is based in Dallas, Texas with his business partner Francisco Sanchez.
Please enjoy!
INTERVIEW LINKS, MENTIONS, AND SHOW NOTES BELOW…
SELECTED LINKS FROM THE EPISODE
Connect with

Rember Orellana

:
Studio Website | Personal Website | Instagram
SHOW NOTES
[01:18] Playing with Dimension

[02:21] Seminar with a Live Subject

[03:11] Ideas about Depth & Layers

[05:00] Using Temperature to Push Contrast

[06:30] Never Stop Learning, Take Seminars

[07:51] The Face as an Element

[10:20] Unique way Keeping your Stencil in place

[12:07] Art is Just a series of Adjustments

[12:27] Keeping your Work area Organized

[14:03] Utilizing the entire Grayscale

[15:29] Promoting creativity, a healthy shop environment & a supportive artistic culture

[17:27] Being shop "Leader" instead of a shop Owner

[17:54] Setting an example for the rest of the shop

[18:42] The Tattoo Shop as a Family & Morale in the Studio

[26:37] Don't just Hire people Get them to Enlist in your Vision

[31:01] Always Tattoo like it's the most Important one of your Career
MORE REMBER QUOTES FROM THIS INTERVIEW
"[03:11] What I'm imagining when I'm putting those little pops of color [in], it's almost like, if you're seeing a tunnel or something, and then at the end of the tunnel, you see a little bit of light."
— Rember Orellana
"[12:07] I mean obviously after you finish the section, you can still come back, but it's a lot less adjustments…they say painting or tattooing is a series of adjustments, right? You're constantly like judging, constantly asking if it's right or wrong."
— Rember Orellana
"[15:29] I have a shop with 20 artists and I'm constantly, just promoting the whole environment of the shop as everybody's trying to push each other. Like we don't have that, where we learn something and want to keep it to ourselves because we're being so competitive. We're all in the more creative mindset, right? So therefore, we opened it up for everybody to be creative as well…we're all learning from each other. So, it has become a thing where the culture is really nice. It's more like a family, you know?"
— Rember Orellana
"[17:27] We wanted to make something where they saw us as an example of, like, a leader… My understanding of leadership is like, you're there to serve people and to do things to inspire them, right?"
— Rember Orellana
"[19:47] I really want to be surrounded by good artists because they make me a better artist…"
— Rember Orellana
"[26:37] When you have people that enlist, they want to be part of it…they believe in your vision and they feel like they're contributing… and by that, they're at all times…trying hard because they see something grow that they're creating."
— Rember Orellana
PEOPLE MENTIONED
Stuck in a Rut? Successful but looking for the Next Challenge? I can help....
With over 26 years of tattoo experience, 9 years of podcast experience and a lifetime of serial entrepreneurship, Jake can help get you back on track. Plus, there's a great chance you already know how to turn your biggest challenges into your greatest opportunities. You likely just need a little guidance and reassurance.
Want more tattoo education and resources?
Check out our Tattoo Business and Mindset catalog HERE!
And you can find all of the courses we offer HERE!
Transcript for this video can be found (here). All transcripts can be found (Here)
(Update when transcript page is made)
The Fireside Tattoo Network is home to the Fireside podcast, Fireside Technique video series and our Fireside Weekly blog.
The Fireside Tattoo podcast is hosted by veteran tattooer Jake Meeks, check out our episodes where we discuss, argue and wax philosophical, from tips for all levels of artists to trends in the tattoo world. Many guest artists have sat down for interviews and in-depth conversations and many more are planned…check back often!
Our Fireside Tattoo Overview video series offers informative, short, and detailed videos geared towards helping artists understand the science and nuances of tattoos and make more informed decisions to improve their work. We often take some of our more technical topics from our Fireside podcast and film an in-depth, narrated, time-lapse video showing exactly how Jake or our featured artists handle certain issues.
Support us while buying the stuff you need at the links below!