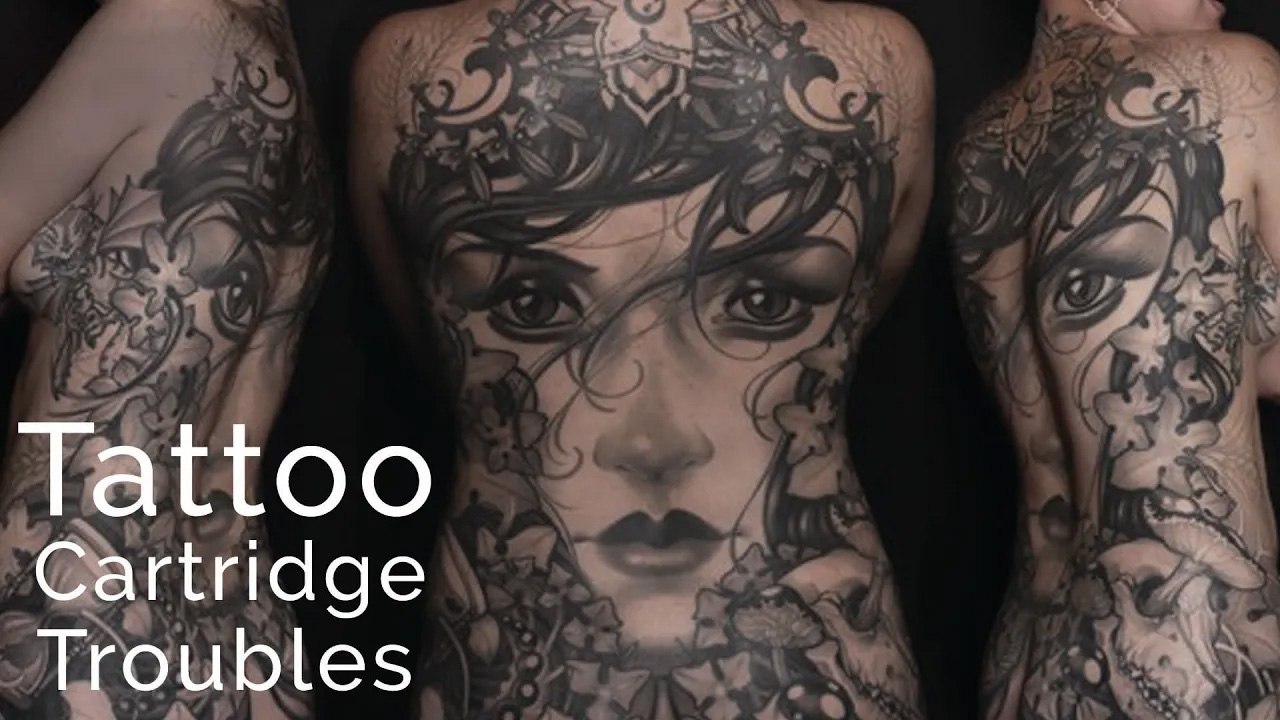 The Cartridge Dilemma | Cooper | EP 267
In this episode, Back for round 3, we have Cooper! This time Jake and Coop take a deep dive into the technology side of things. They discuss how tattoo equipment and gear has been changing over time and what the tattoo community could do to make some serious positive change.
Cooper also talks more directly about cartridges, tattoo machines and different ideas about potential improvements. A ton of great little nuggets and ideas, this is definitely not one to be missed.
Also, Be Sure to Check out the Paradise Tattoo Gathering!
Need an Accountability Partner to help you reach your tattoo goals? You Found One!
Get access to our online community and a bunch of other really amazing benefits:
Exclusive Interviews with Q&A
Monthly Drawing Challenges
Feedback, Accountability, Networking Opportunities
Interview By Jake Meeks —
Writing By Daniel Pushcarich —
Topics: Tattoo Machines, Tattoo Techniques, Tattoo Needles, Tattoo Needle Cartridges, Standardizing Terminology, Tattoo Machine Brands, Carson Hill, Dan Kubin Machines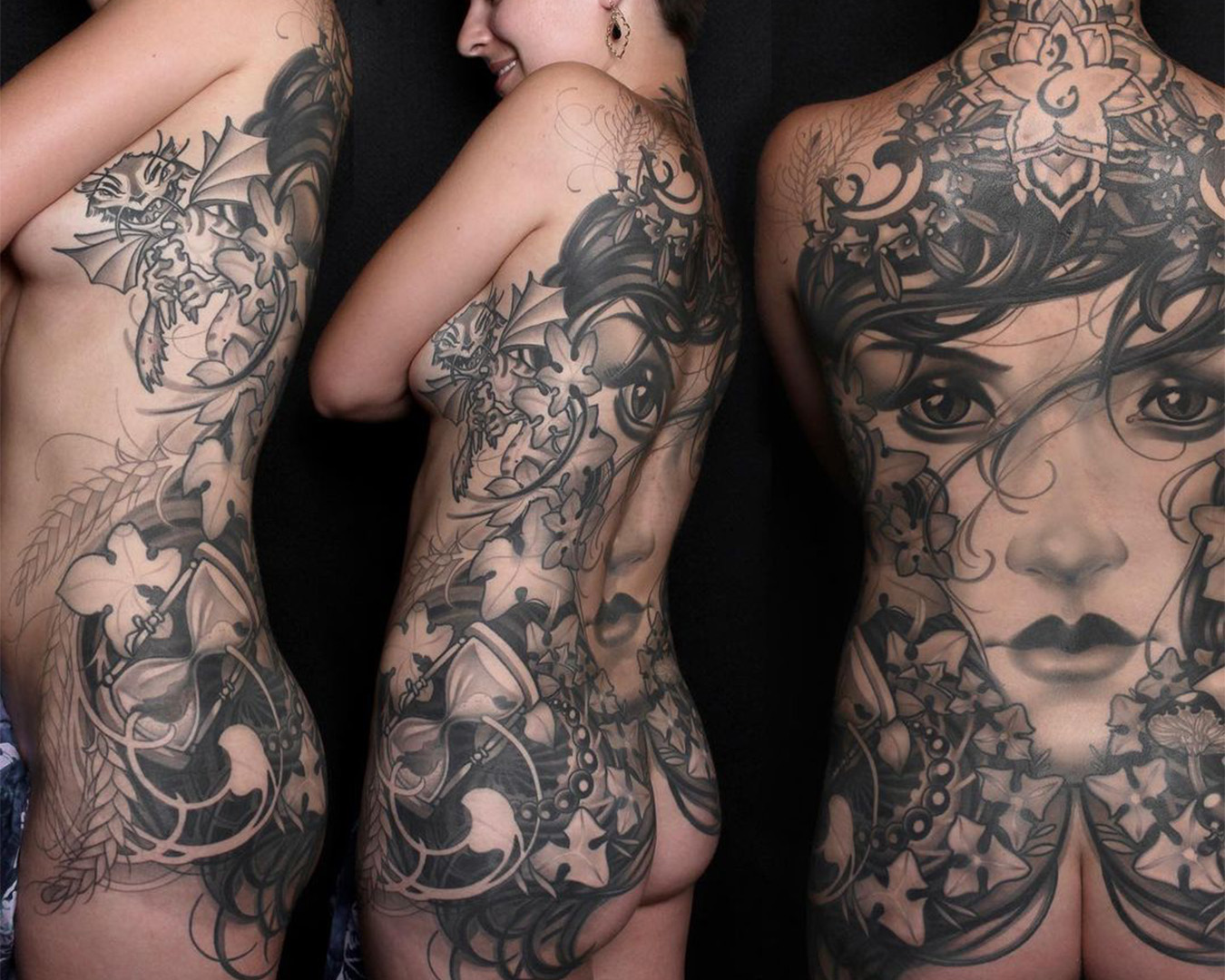 "You gotta understand that's the first step is being willing to look at everything and go, 'oh, um, that wasn't as good as I thought. I kind of feel like shit about that.' And being okay with sitting with that."
— Cooper
For over 23 years, Cooper (@The_Superstition) has been a pioneering tattoo artist, developing his own application method and creating a signature art style. He has coined the "Deco Pulp" style of tattooing, which uniquely blends art deco, pulp illustration, and graphic design. Cooper's large-scale, bold illustrative work has made him a true force in the tattoo world.
Cooper's meticulous attention to detail and exceptional draftsmanship instill complete confidence in his clients. They trust him to problem-solve any complex fit and form ideas, and bring their tattoos to life with precision and care. His distinctive tattooing method and unique style ensures exceptionally long-lasting results, setting him apart from other artists in the industry.
Cooper is currently moving from San Diego to Denver, CO and would love to get in touch. Reach out to him to get tattooed at: bookingforcooper@gmail.com
Please enjoy!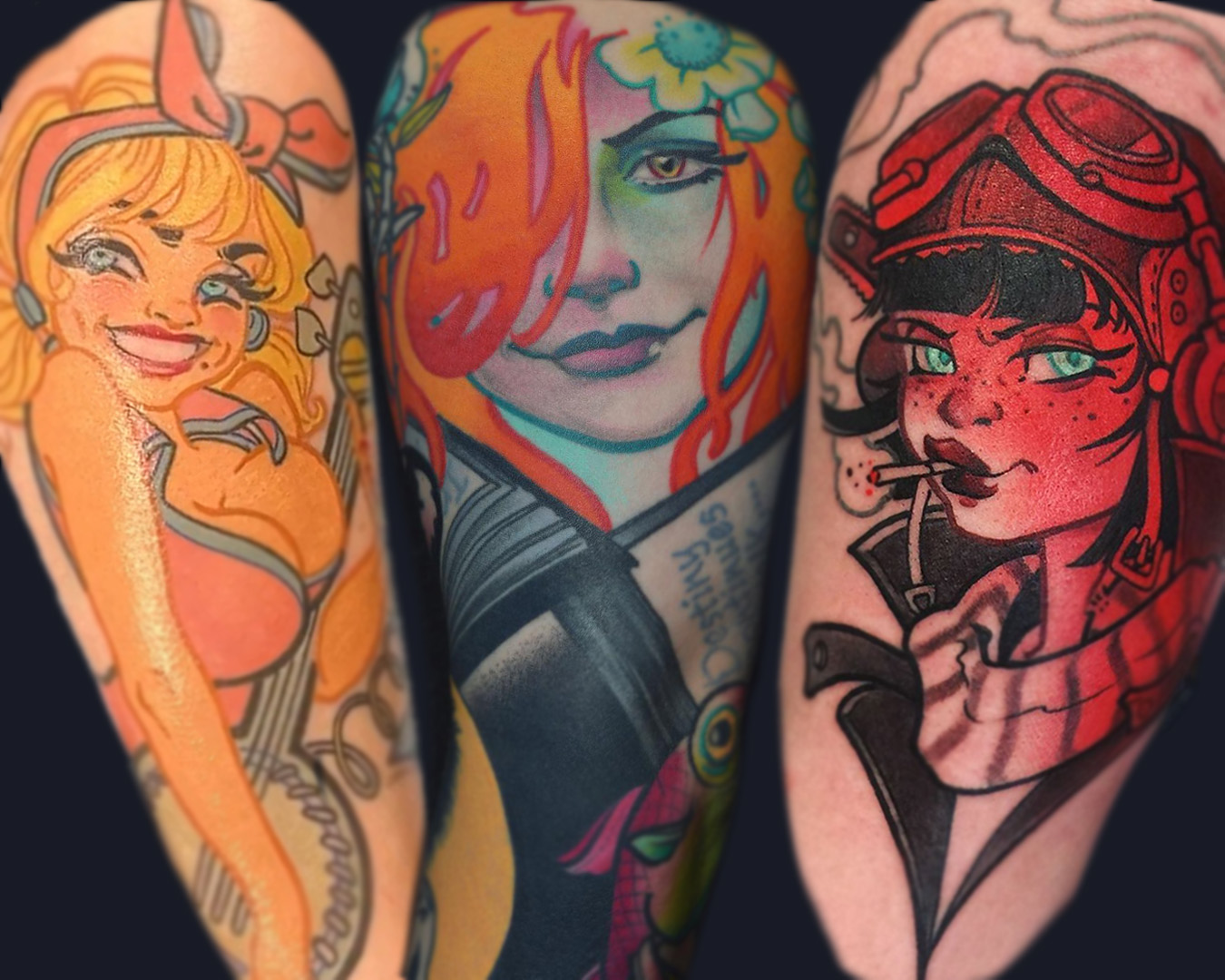 INTERVIEW LINKS, MENTIONS, AND SHOW NOTES BELOW…
SELECTED LINKS FROM THE EPISODE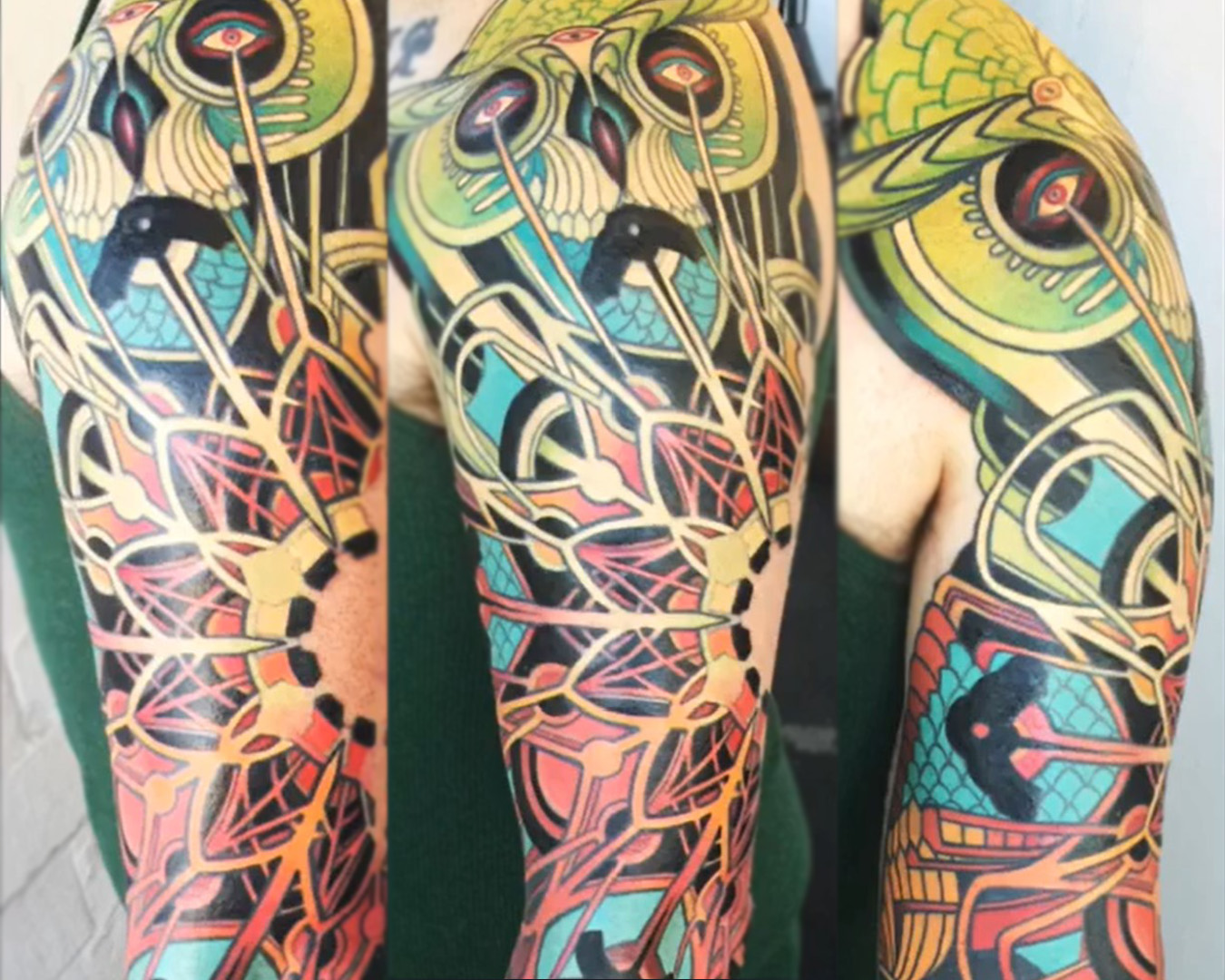 SHOW NOTES
[00:00] Intro

[00:47] Enter the Coop

[04:42] Nothing's as Depressing as Good Advice

[08:25] Finding Out The Hard Way, But With Guidance

[13:22] Smaller, More Intimate Seminars

[18:14] A More Level Playing Field For the New Generation

[22:24] Technically Speaking, Laying Down about Liners

[25:37] Training your eye, The Ghost in the Machine

[29:31] Testing Testing! Liners as The Benchmark

[33:19] We Want to Welcome YOU to Paradise!

[34:08] Almost Right But Not Quite, More Kubin Talk

[35:51] The Good Old Days? Let's talk about the REAL problem

[41:08] We NEED More Standardized Manufacturing

[42:59] Having Control Over Product Variables, US Production?

[44:24] You Just don't Know Unless You're Testing

[49:14] Voltage Wars!

[52:18] Ergonomics

[55:57] The Tail Has Been Wagging The Dog For Too Long

[58:39] A Note to Younger Tattooers, Consider Your Groupings

[1:03:59] Tattooing Vocab Is A Mess!

[1:07:48] It All Comes Down to Technique

[1:09:39] Outro, Thanks So Much Coop
MORE COOPER QUOTES FROM THIS INTERVIEW
Let's Talk About The REAL Problem, Non-Standardized Manufacturing!
[35:51] "If we're talking about that, high-end 8, 9, 10 on the technical lining scale, I don't think it'll happen unless somebody can find a way to make the little plunger fully attach where it doesn't allow that side to side movement"
— Cooper
As the popularity of cartridges has grown over time, the need for needle-making skills has become rarer or even obsolete. The outsourcing of products like needles has also shifted much of the power into the hands of manufacturers who primarily cater to market demands and needs, without giving much thought to innovation. Some individuals still prefer using coils with tubes and handcrafting their own tattoo needles for the day, but this skill is gradually fading away. It used to be that proficient needle makers could achieve a level of consistency that manufacturers today seem to struggle with.
So what is the problem with cartridges? Cooper's suggestion of improving the connection seems like a plausible solution, doesn't it? Here are a couple of ideas to consider: What if a soft rubber grommet was placed around the plunger? It could provide some resistance while offering stability and reducing vibrations. Alternatively, the plunger shaft could be hollowed out, allowing the stainless steel stick to insert into the plunger. This could enhance stability but might increase friction. However, it's important to note that not all tattoo machines use the same mechanisms, making it challenging to standardize cartridges in this manner.
Are there any other ideas floating around? Do you have a potential solution in mind? Perhaps it's time for manufacturers and tattoo artists to engage in a serious discussion about the industry's needs. They could also leverage the expertise of excellent organizations such as the APT (Association of Professional Tattooists) or TAG (Tattoo Artist Guild) to collaborate with manufacturers and address these concerns effectively.
You Really DON'T Know About Your Tattoo Gear Unless You're Testing
[44:24] "Clearly there's a line in anything where you're just making trouble for yourself, it's not worth agonizing over this or that. But, really until you test you don't know whether you've found something really useful that you should pay attention to."
— Cooper
Testing is really important to figure out what works for your setup, but it takes time and money. Instead, many people just go with what others recommend or what's popular, without really understanding why it works. They don't stop to think about personal preferences or the fact that they might just be used to a certain choice. Unfortunately, this means they miss out on the chance to discover what truly works best for them.
Your own experience and situation are super important in figuring out what's effective. Just following recommendations or going with what's popular might not give you the results you want. Testing, like trying out different products or comparing them side by side, gives you real-life knowledge and helps you make choices based on what suits you best. By putting in the time and effort to test things out, you can make informed decisions and set up something that really works for you.
The Ergonomic Tail Has Been Wagging The Tattoo Machine Dog For Too Long
[55:57] "I feel like so much of this evolution has been necessary, but oftentimes it's done by people who don't have fancy, million dollar machine shops. It's people who are just doing the best with what they have, so there's a lot of awkward steps."
— Cooper
The current market trend seems to lean towards sleeker, lighter, and faster equipment. However, one must question whether that is truly what the art of tattooing needs. Throughout the article, a recurring theme emerges: limited communication between manufacturers and tattoo practitioners over the past 15-20 years. Instead of focusing on genuine innovation and addressing crucial aspects, manufacturers often prioritize producing what sells.
The article has already touched upon the fact that artists often become accustomed to what they're working with for various reasons. However, it's important to acknowledge that there may be unknown factors hindering artists from achieving more consistent results, such as the shape of their machine or the distribution of weight.
This issue appears to be subjective, considering different hand sizes and preferences among artists, among other things. Nonetheless, the concept of stabilization holds merit. What truly contributes to consistency in tattooing? Is it the skill level and technique of the artist, a well-optimized setup, a reliable machine, or the weight of the equipment? It could be a combination of these factors, but what is the definitive determining factor?
It is crucial for manufacturers and tattoo practitioners to engage in meaningful communication and collaboration. By fostering a stronger dialogue, they can explore innovative solutions that truly matter to the art and craft of tattooing. This proactive approach will lead to advancements that benefit both artists and the industry as a whole.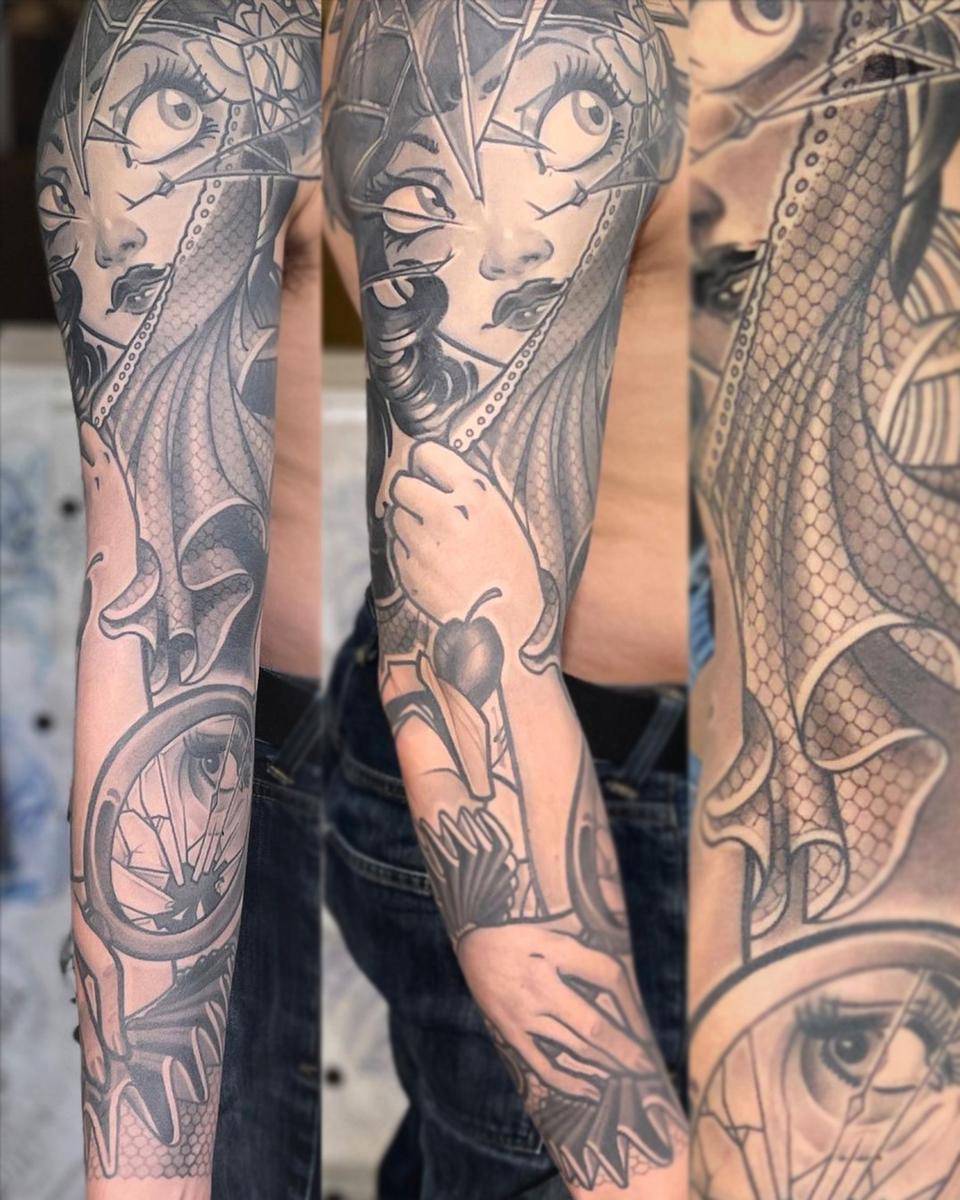 Tattooing Terminology Is A Mess!
[1:03:59] "It's the Manufacturers, to no fault of their own because they're in business. But they're very often catering towards fun verbiage and terminology. Things can get ass backwards if somebody doesn't have conversations about exactly what they need and bring it back to center."
— Cooper
Over the years, naming conventions for tattoo equipment and general terminology have undergone significant changes. The lack of a true consensus on vocabulary has resulted in communication challenges between machine and equipment manufacturers and the tattooers who use them. Often, manufacturers would simply come up with something that sounds interesting or marketable, leading to confusion and a lack of shared understanding among industry professionals.
Consider the example of professional musicians, doctors, or scientists. When they engage in conversation, their dialogue may sound like a foreign language to outsiders, and technically, it is. They utilize specific terms and structures to convey complete ideas, enabling them to communicate succinctly with one another. With the advent of social media, many tattooers are now adopting this approach, identifying the most commonly used terms and silently agreeing on their definitions. While this is a positive development, having an industry-wide set of standardized terms would be immensely beneficial in bridging the gap between the needs and desires of practitioners and manufacturers.
Establishing a common language within the tattooing community would facilitate clearer communication, enhance collaboration, and streamline the exchange of ideas and requirements. It would foster a more efficient and productive relationship between practitioners and manufacturers, leading to advancements and innovations.
Interested in More by Cooper?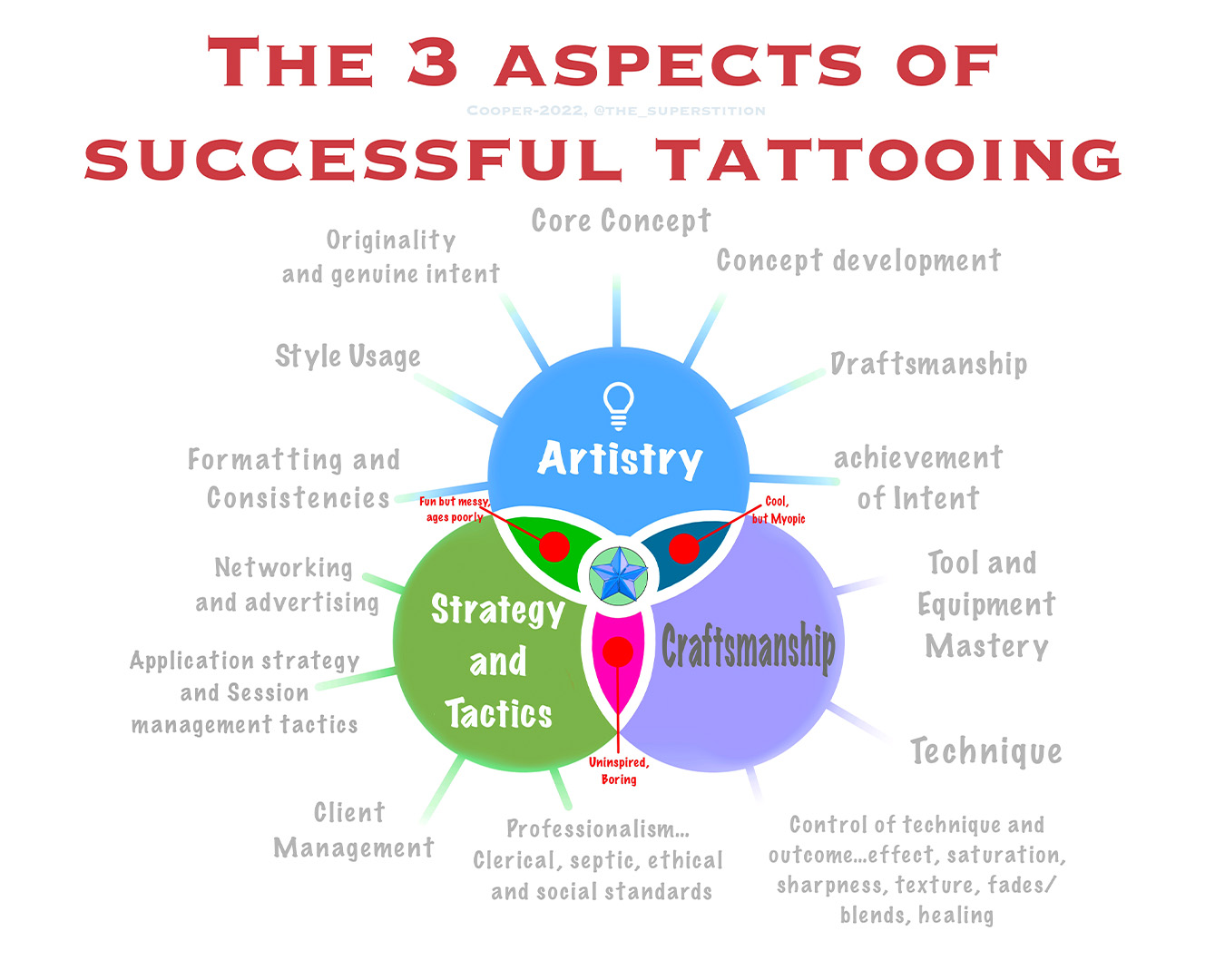 This is a diagram Cooper made in order to keep himself on track. It shows the 3 main aspects involved in being a really successful tattooer and how they interact, then breaks down some of the individual traits involved in each one. this is useful for people who are taking notes on how to specifically be a more well balanced artist, and it's a critical element to Cooper's seminar material. Check out his interview with Jake on his process Here:
3 Days to Smarter Tattooing | Cooper | EP 250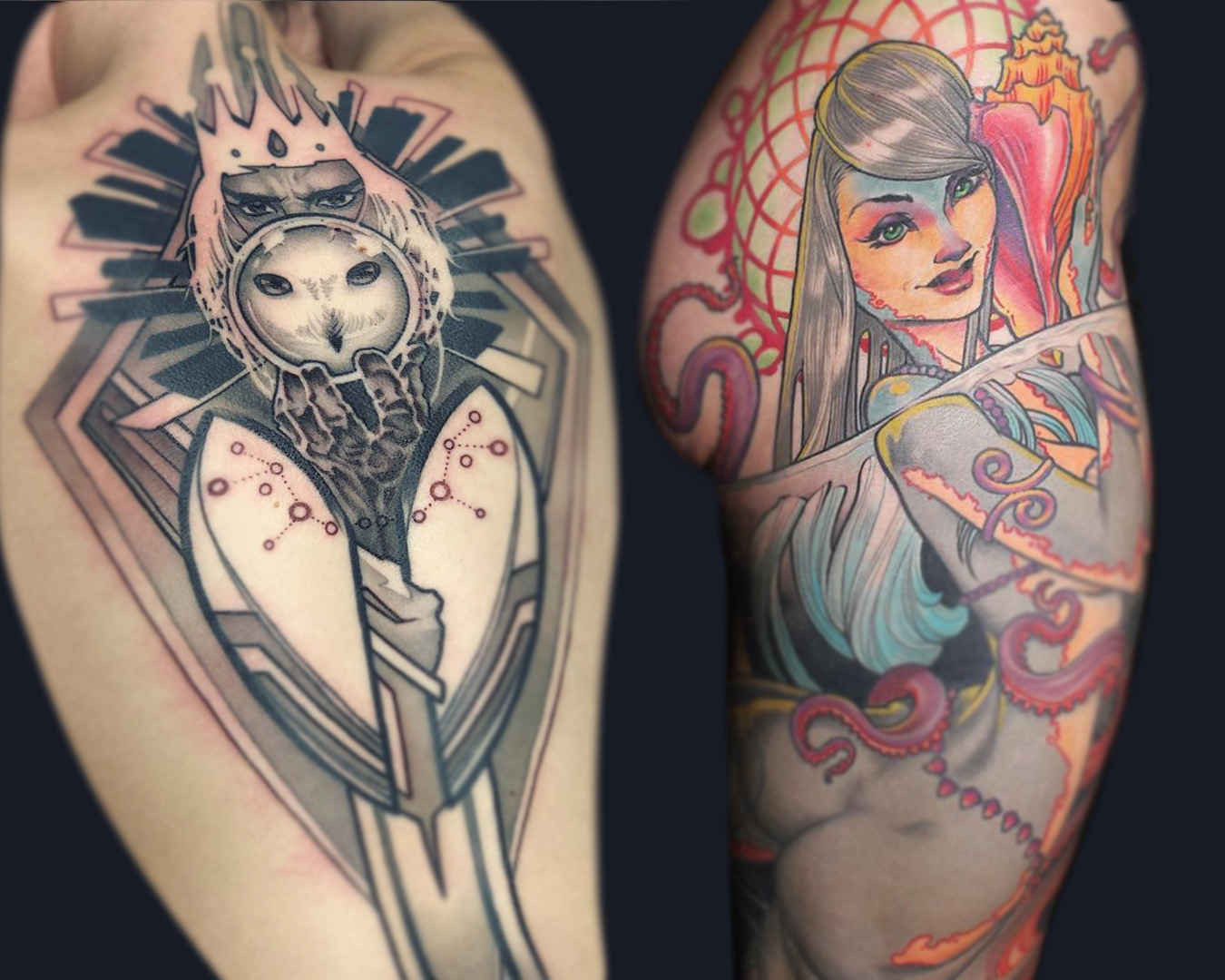 PEOPLE MENTIONED
Come along with us to Paradise!
Need an Accountability Partner to help you reach your tattoo goals? You Just Found One!
Inside Fireside Tattoo Club is the heart of the Fireside Family. We are a group of artists who are driven to become the best tattooers we can be. You'll get access to our online community and a whole bunch of other really amazing benefits. Join NOW!
Want more tattoo education and resources?
Check out our Gear & Technology catalog HERE!
And you can find all of the courses we offer HERE!
Transcript for this video can be found (here). All transcripts can be found (Here)
(Update when transcript page is made)
The Fireside Tattoo Network is home to the Fireside podcast, Fireside Technique video series and our Fireside Weekly blog.
The Fireside Tattoo podcast is hosted by veteran tattooer Jake Meeks, check out our episodes where we discuss, argue and wax philosophical, from tips for all levels of artists to trends in the tattoo world. Many guest artists have sat down for interviews and in-depth conversations and many more are planned…check back often!
Our Fireside Tattoo Overview video series offers informative, short, and detailed videos geared towards helping artists understand the science and nuances of tattoos and make more informed decisions to improve their work. We often take some of our more technical topics from our Fireside podcast and film an in-depth, narrated, time-lapse video showing exactly how Jake or our featured artists handle certain issues.
Support us while buying the stuff you need at the links below!